Violence generally occurs in a cycle. This situation poses an obstacle for taking an action with the aim of taking the necessary measures after the woman is exposed to violence. Knowing that violence can recur is important in order to take measure earlier.
Domestic violence means all acts of physical, sexual, psychological or economic violence that occur within the family or domestic unit or among the people who are considered as a family member, whether or not the perpetrator of violence shares or has shared the same residence with the victim of violence.
Living in the same home is not stipulated for domestic violence. The domestic violence is a form of violence that can occur within any relationship. This violence can happen among the people having an intimate relationship such as family members, divorced or separate persons or engaged partners.
It is all kinds of attitudes and behaviours that are directed against a woman because she is a woman or that affect women, result in violation of the human rights of the women with gender-based discrimination.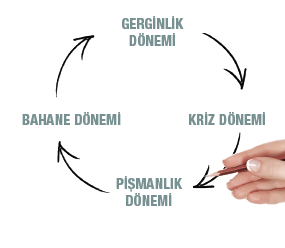 TENSION PHASE
The perpetrator of violence creates tension by pretending the various problems. S/he tries to control the behaviours of victim. S/he says the things that are necessary to be done or not to be done. The victim feels anxious, tries to reduce the tense atmosphere and be careful about his/her utterances and behaviours.
ACUTE/CRISIS PHASE
The perpetrator of violence attacks the person verbally, psychologically, physically, sexually or economically. The victim feels humiliated, sad and exposes to unfairness.
REMORSE PHASE
The perpetrator of violence regrets or tries to please the victim by showing his remorse and adopts positive attitudes. The victim reacts positively to the efforts of the perpetrator.
HONEYMOON PHASE
The perpetrator of violence provides excuses for his behaviours. The victim tries to understand the excuses (reasons) of the perpetrator, helps him to change, doubt her own senses and feels responsible for the situation.